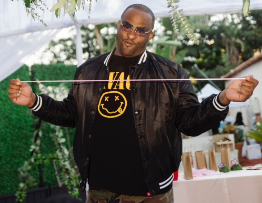 The Life After Basketball Tour featuring Glen "Big Baby" Davis
You missed it! This show has passed.
Glen "Big Baby" Davis' Bio
Comedian Glen "Big Baby" Davis was born and raised in Baton Rouge Louisiana. While attending LSU and majoring in theater, Glen was drafted 35th overall pick in the 2007 NBA draft resulting in him leaving LSU just one year shy of graduating. He went on to play nine years in the NBA for Orlando Magic, Los Angeles Clippers, and in 2008 winning the NBA Finals with The Boston Celtics. After being forced into retirement by an injury, Glen quickly found a new passion and that was comedy. Known for his wit and humor on the court this was a perfect and easy transition. He started attending open mic nights at comedy clubs and auditioning for roles in tv and film. You can now find Glen on television shows such as "Shameless" and "Benched" and catch him on tour in Boston and Los Angeles.
Learn More