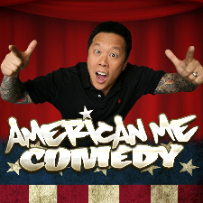 American Me Comedy
You missed it! This show has passed.
Show Info
American Me Comedy debuted on November 24 2009 with its initial performance at the Improv in San Jose, California. An altruistic comedic mission fueled by playing the race card as the joker in the deck inspired the show's creator, Jason Rogers.
Jason's uniquely American upbringing as an adopted Korean kid in Mr. Roger's white picket fence neighborhood gave him a distinctive "slant" on life, now put to hilarious use in his stand-up routines. The self-proclaimed "Caucasian Asian" put it this way, "I created the show to incorporate all kinds of comedians. I wanted to stay away from an all Asian, white, black, purple, blue themed show."
Sharing the pot of gold at the end of this comedy rainbow is the motivating force behind American Me Comedy which merges the hottest stand up comedy with genuine, grass roots fundraising efforts for feel good frivolity at its philanthropic finest. Along with his humanitarian efforts, Rogers is seriously serious about his commitment to comedic excellence, "I want to give artists an outlet and an opportunity to voice their creative gift."
American Me Comedy aspires to collaborate with major sponsors, non-profits and charities throughout the world. Past and current charity partners include: Fallen Angels, HI Tor, San Jose Police Department, Eastridge Little League, Overfelt High School Baseball Team, PAWS Philly, Happy Tails, Martin Luther King Reading Center, Team Green & the Fight against ALS, Team in Training/Leukemia & Lymphoma Society and
FindOurFathers.com.