Maurice Benard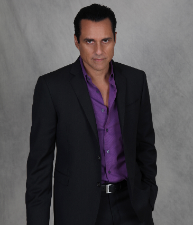 Bio
Emmy® Award winning Actor Maurice Benard joined the cast of General Hospital in the role of Sonny Corinthos in August 1993. He briefly left the show for a year-long hiatus in December 1998. For his portrayal, Mr. Benard received the Emmy® Award for Outstanding Lead Actor in 2003. He was also nominated in 1996, 1997, 2004 and 2006.

"This role is what I do best," Mr. Benard explains. "Sonny is unpredictable. You never know from one second to the next what he is thinking, feeling or planning. He's a man in personal conflict who maintains an outward appearance of calm at all times, at any cost."

Mr. Benard's multi-cultural upbringing began in San Francisco, where he was born to parents from Nicaragua and San Salvador. Uninspired by the traditional education route, he gleaned an education in the open job market after high school. He began modeling in his early twenties. Following that, Mr. Benard took up acting in numerous theatrical productions in the Bay area.

After auditioning for a role on the ABC dramaAll My Children, Mr. Benard was cast as Nico Kelly. Two years later, he struck out to find new challenges and moved to Los Angeles, where he was cast as the lead in the much-publicized TV movie, Lucy and Desi: Before the Laughter. He later added a pivotal role in the feature film Ruby to several other prominent film and television credits.

Mr. Benard has been a popular voice in the battle against bipolar disorder. He has been very open about his personal battle with the illness, appearing on television programs such as The View, Entertainment Tonight, and Oprah. He has also been featured in People and LA Life Magazines. He also began working with the National Mental Health Association (NMHA) on the "Bipolar Disorder: Do You Know It?" campaign to help educate Americans about the importance of recognizing the signs and symptoms of bipolar disorder.

Mr. Benard lives in the Hollywood Hills area of Southern California. He enjoys the martial arts, working out and playing host to a menagerie of dogs and cats. He and his wife, Paula, are the proud parents of daughters Cailey Sofia and Cassidy Rose and son Joshua James.
Maurice Benard Video Clip