Eddie Della Siepe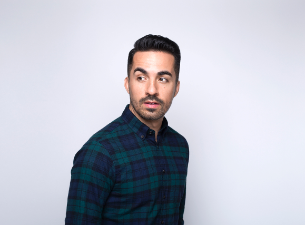 Performances
The Jonathan Hayes Spectacular Stand-Up Comedy Show
7:00 PM
The Canadians of Comedy with Debra DiGiovanni, Eddie Della Siepe, Sabrina Jalees, and more!
8:00 PM
Bio
Toronto native Eddie Della Siepe is a comedian, podcaster and actor who has quickly become a mainstay ofthe Canadian & U.S (Los Angeles) comedy scene.

Eddie has been seen on Hulu's stand up series,"Coming to the Stage" season 2 which was produced by Comedy Dynamics. His podcast"Barely Friending" has hit number 9 on iTunes Comedy Podcasts and was featured as a top new podcast. His second album, "I Think I've Changed" broke the top 20 on iTunes and can be heard on SiriusXm radio.He has been tosome wellrenowned comedy festivals such as The Just For Laughs Festival in Montreal (2010, 2012 & 2013), JFL 42 in Toronto (2014 & 2015), LOL Sudbury Comedy Festival and the Halifax Comedy Festival.
On Canadian Television Della Siepe was one of MuchMusic's most recognizable faces and stared on one of the network's highest rated shows as a pop culture expert onVideo On Trial, a position he has had for over five years. He has also made appearances on Match Game on CTV and has own stand-up specialComedy Now!on CTV/Comedy Network.