Brad Garrett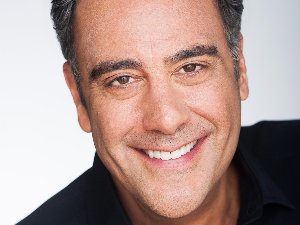 Bio
Brad Garrett won three Emmy's and a SAG Award for his role as "Robert Barone" on the iconic television series EVERYBODY LOVES RAYMOND. He was also nominated for an Emmy and SAG Award for his portrayal of The Great One in the telefilm GLEASON.
Garrett's trademark voice has been heard in over 30 animated features, including the contemporary classics FINDING NEMO, RATATOUILLE and TANGLED. Garrett's film credits include David Chase's NOT FADE AWAY as well as MUSIC AND LYRICS, SUICIDE KINGS and Woody Allen's SWEET AND LOWDOWN.
Garrett's stand-up career has spanned over thirty years and he was one of the youngest comics ever to appear on The Tonight Show with Johnny Carson. In the late 80's he opened for Frank Sinatra and Sammy Davis, Jr; in Las Vegas, where he recently opened his own comedy club at the MGM Grand, performing to sold-out audiences.
Garrett has performed on Broadway in Neil Simon's THE ODD COUPLE and will next be seen in the second season of the acclaimed cable television series FARGO.
The Gallery division of Simon and Schuster recently published Garrett's autobiographical bookWhen The Balls Drop.