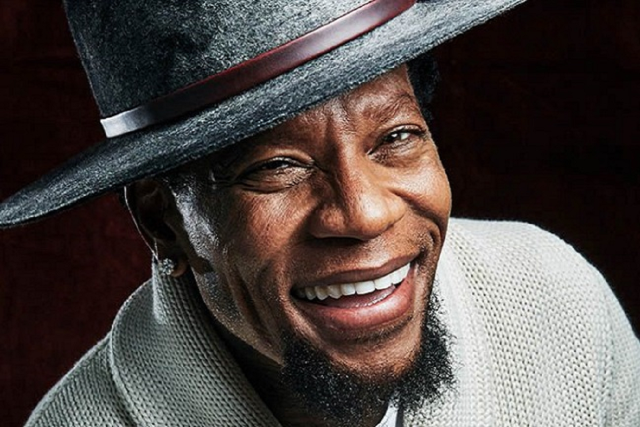 D.L. Hughley's Bio
One of the most popular and highly recognized standup comedians on the road today has also made quite an impression in the television and radio arena. D.L. can currently be heard on the New York airwaves, as host of the morning show on WYKS-FM. In just a few months on air, DL has managed to increase the listenership for the station.

Most recently, D.L. served as host of his own late night talk show on CNN "D.L. Hughley Breaks the News." Proving he could, indeed break news, D.L. was able to uncover startling, news-making comments from such guests as former White House press secretaries Scott McClellan and Ari Fleischer, as well as a recent controversy-stirring comment from RNC chair Michael Steele.

D.L.'s creative arsenal is non-stop. He starred as "Simon Stiles" on the Aaron Sorkin drama series for NBC "Studio 60 on the Sunset Strip" and was hosted the popular BET hidden camera reality series, "S.O.B. Socially Offensive Behavior". In 2006, D.L. also starred in his own HBO comedy special entitled "Unapologetic" . The special, which aired on HBO to excellent reviews, and is now available on DVD. Following the success of the special, D.L. went on to host the second season of HBO's "Def Comedy Jam" and served as host of the BET Awards in 2008.

Hughley spent four successful years starring in his own sitcom "The Hughleys," and showed no signs of slowing down. It was the mega-hit ORIGINAL KINGS OF COMEDY that launched D.L. into superstardom. The film, based on the 1999 tour featuring D.L., Bernie Mac, Steve Harvey and Cedric the Entertainer, garnered close to $40 million at the box office and became one of the highest selling DVDs in 2001.

In 1999 D.L., along with comedians Bernie, Steve and Cedric embarked on this national tour, which sold out most of the major concert arenas in over 50 cities across the country and went on to gross a staggering $37 million dollars nationwide. Spike Lee, eager to expose the tour to a larger audience, made a docu-film of the tour, and it was released nationwide to rave reviews.

In 2005-2006, D.L. hosted his own late night talk show for Comedy Central "Weekends at the DL", his first foray into late night hosting.

In addition to some exciting television developments, D.L. took a serious turn with his work, starring in the drama Shackles. Hughley wowed audiences in 2001 in The Brothers, co-starred in Cloud Nine opposite Burt Reynolds, and also starred in the film Doubting Thomas.

D.L. has undoubtedly proved himself as one of the hardest working men in showbiz. In addition to his growing tv and film resume, D.L. continues his reign on the standup comedy front, filling out concert halls and headlining comedy clubs across the country.