heather anne campbell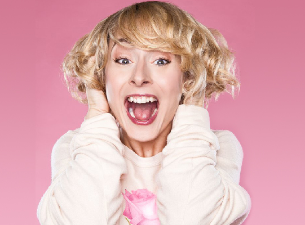 Heather Anne Campbell is an Emmy-nominated writer and comedian whose credits include Saturday Night Live, Whose Line is it Anyway?, The Eric Andre Show, Hampton Deville, and Fox's Animation Domination Hi-Def. Last year, Heather sold a scripted show to FX with Nerdist/Legendary attached. This year, she sold an unscripted show to FOX with The Jackal Group. Additionally, she writes and voices cartoons on AOK, has been nominated for a Webby, and has nearly half a billion views online.
Her sketch group, The Midnight Show, was singled out as an "act to watch" by LA Weekly, and her video "Drive Recklessly," was nominated for Best Original Sketch in the American Comedy Awards in 2012. The Midnight Show was a finalist in the Friars' Club National Sketch Comedy Contest, called, "a [sketch group] that should be on television," by Laughspin, and named, "Kings of Dot Comedy," by G4.
Along with partner Becky Drysdale, she holds the UCB LA Cagematch record, performing undefeated from 2014-2017 in Hebecky Drysbell. On Thursday nights, she's on stage with Last Day of School in the TXT MSG SHW, which LA Weekly called the Best of LA in 2009 and again in 2013.
Heather began improvising at Improv Olympic, in Chicago, at the age of 15. As one of Del Close's students, she completed her work in the Windy City as the youngest member of Close's final production, Spoo -- which toured to the Austin Comedy Festival. She left Chicago before she was legally allowed to drink in the very theatre/bar she performed in nightly. A four-year member of Northwestern University's The Mee-Ow Show, she was hired by Boom Chicago in Amsterdam, and spent three years abroad until moving to Los Angeles in 2005. Soon after, Heather was selected for The Groundlings Sunday Company, while simultaneously performing at UCB, IOWest, and Ultimate Improv. Time Magazine interviewed her in late 2013, but it was mostly unrelated to all of the above, and her photography has been featured in National Geographic. When she's not working, she's playing video-games.
Events
The Envelope with Scout Durwood, Heather Anne Campbell & more!
9:00 PM