The Magique of Egypt Magic Show (ALL AGES)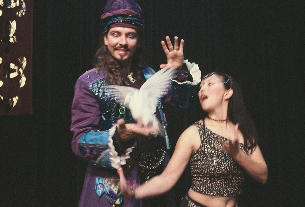 The Magique of Egypt - Tuesday, June 13, 2017


Tricky Tuesdays at the SJ Improv. Join us for the most spectacular and longest-running magic show in the Bay Area, led by a quick-witted master of sleight of hand and grand illusion - Majinga the Magician with Magic Genii, Mystical Maya, Lolo Minako and the cast of the Magique Bazaar - returning to the Improv for a full evening length show that attracts new and loyal fans show after show.
Come with us as we trace magic back to ancient Egypt. See what comes out of the Mummy case! Marvel at the mesmerizing Sandz of Egypt along with the beauty of belly dancing. You might even catch a glimpse of our dancing camel along the way. Visually rich and comically sophisticated, this show is the perfect blend of the best magic and comedy around.
Be a part of our magical family for an evening of mystery, laughter, magic, spectacle, music and circus arts. Experience the world of magic+unique=magique.
Doors open 7:15pm. Arrive early for good seats and to catch close-up magic at your table
* Please note - there is a 2 item minimum from the Improv menu
Events
The Magique of Egypt Magic Show (ALL AGES)
8:00 PM