Jerry Garcia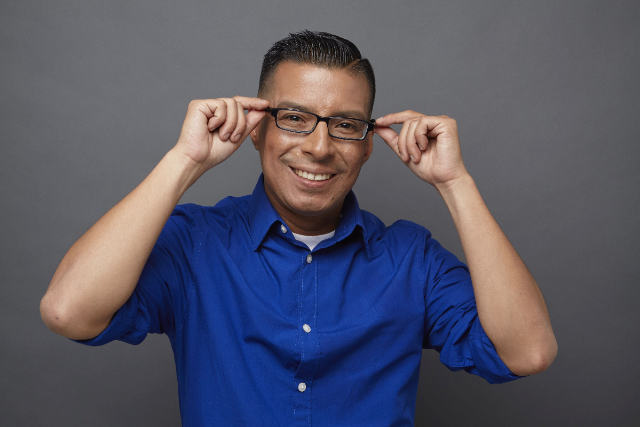 A late bloomer to stand-up comedy Jerry Garcia first stepped on to the stage on October 15 2009 at the Haha Comedy Club in North Hollywood and he's never looked back.
Now Jerry Garcia is considered one of the fastest rising young Latino Comics in Los Angeles and quiet possibly the entire Latino Comic genre. Jerry has stormed his way into the National Comedy Scene and people cannot get enough of this smart-energetic-funny-funny man from Huntington Park California. A single father of two boys Jerry allows us to come into his world and laugh histerically along with him as he tries to convice the audience with his witty puns on how he can be the best father he cab possibly be while spending the least amount of energy. His views on life relationships his modest upbringings and everyday struggles makes the entire audience connect as the punchlines he delivers which such charm and charisma keep coming non-stop harder and harder. Jerry's presence strong delivery and likeability on stage help him connect and interact with audience members in the most memorable way fans leave the showing embracing a new "funny friend"...by the end of his set you won't know what hit you but you will be begging for more!


Jerry has performed in over a dozen states and completed his first world military tour in the Spring of 2015 when he joined the Armed Forces Entertainment. Jerry has been featured on various television shows such as LAUGHS BiteSizeTV and Stand-Up and Deliver. He was co-host to the "Jeff Garcia Podcast Show" one of the most successful Latino Comedy Podcast on ITunes from 2011-2014. Currently a featured member of the new Latin Comedy Jam Tour which he performs alongside comedians such as Paul Rodriguez Johnny Sanchez and Steve Treviño he's a regular on many comedy showcases and colleges around the country. For Jerry Garcia the sky truly is his limit at this point and fortunately for us he's just getting started.