Jeffrey Baldinger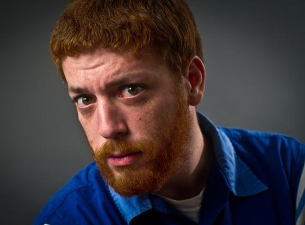 Performances
Tonight at the Improv with Jeffrey Baldinger & more!
10:15 PM
Bio
Born and raised on the mean streets of St. Paul Minnesota Jeffrey Baldinger discovered his love for comedy at a young age admiring the likes of Rodney Dangerfield and Andy Kaufman. But after moving from Minnesota to Israel to Kansas to Australia to Kansas again and then to Minnesota again he ultimately found his calling at an open mic on the east side of Los Angeles.
Since beginning his stand up career Jeffrey has used his quick wit and goofy attitude about life to become a favorite amongst crowds and fellow comedians alike. He has appeared on The Outsourced (2010) The Playboy Comedy Tour (2011-12) and has been featured on Louie Anderson's LOL show in Las Vegas. He is also the creator and producer of the Hollywood Improv's most successful monthly show Flyover Comedy.
Jeffrey has been featured on the websites Youtube Break.com and FunnyorDie.com and has made appearances on Showtime's Dexter ABC's Happy Endings and NBC's Community. Most recently Jeffrey appeared as a panelist on HDnet's "AXS Live Super Bowl Show."

Jeffrey is a regular on one of the biggest college comedy shows in the USA Comedy Juice and he can be seen most nights performing at the World Famous Comedy Store Laugh Factory and the Hollywood Improv. Jeffrey does not like writing in the third person but has decided it to be the best way to write his bio...for the time being
Jeffrey Baldinger Video Clip