Gayla Johnson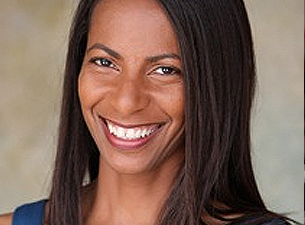 Performances
Funny 4 A Reason 12
8:00 PM
Bio
Gayla Johnson is a talented Actress and Stand-up Comedian, currently on Showtime, sho.com "Fierce Funny Women" and recurring on ABC's new Sitcom, premiering April 2012, "Don't trust the B----in Apartment 23". She's also recurring on Two Webisodes, ASSIGNMENT UNEXPLAINED assignmentunexplained.com and GUIDES indiegogo.com/GUIDES#team .
She's also recurred on ABC's Brothers and Sister's and appeared in Beverly Hills 90210, Martin, The Practice, the Discovery Channel - Mystery ER, and I Didn't Know I was Pregnant.
As a veteran theater actress: Gayla has starred in: For Colored Girls Who Considered Suicide when the Rainbow was Enough: A Raisin In The Sun; LaBrea Tar Pits; No Exit; RosenBlat & Guildenstern are dead, Black and Bluestien, and local improv and sketch productions.
Diverse with a background in Theatre and a Degree in Broadcast Communications, she flowed into public speaking and then the challenging field of Standup Comedy. She has made guest appearances on COMICS UNLEASHED, SiTv's LAFF JAM, INSIDE JOKE, B.E.T. COMIC VIEW, TBS COMEDY FESTIVAL, and the COMEDY TIME Series on Youtube. She's quoted as saying "Stand-up Comedy is the one thing you can do badly, and no one will laugh at you".
She's won a host of comedy competitions, including,
the Ice House Comedy Club Comedy Contest, "Positive I Can Entertain" Competition, Funniest Female, and the Make Me LAFF Competition.
She was Honored by the LA COMEDY AWARDS with the MOST HILARIOUS COMEDIAN. and BREAKTHROUGH PERFORMER in FILM and TELEVISION. After literally bouncing back from 3 appearances on ABC's WIPEOUT, Gayla Johnson expanded her comedy talent into acting.
Touring Internationally - She's A Broad "ABROAD"!
She appears regularlyat The Laugh Factory, Comedy Store: Ontario and MelroseImprov, Ice House, and HaHa Comedy Club, London, UK at the Comedy Store, Comedy Cafe, 99 Clubs and the Jongulers Comedy Circuit, Montreal at the Comedy Nest. Currently her Comedy CD is soon to be distributed by New Wave Dynamics