Deon Cole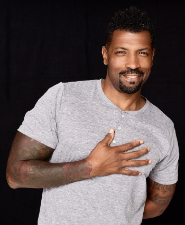 Bio
DeonCole is one of the most in-demand talents on the comedy scene. Armed with a "comic authority born of undeniable charisma" (AV Club), Deon's completely unique style and delivery have made him a wildly popular performer with fans and critics alike.
Deon plays the character of adjunct college professor "Charlie" on ABC's Emmy-nominated and Golden Globe Award winning seriesBlack-ish. In January 2018 Deon brought the beloved "Charlie" to Freeform in the Black-ish spinoff series College-ish, with Variety declaring him "the hilarious secret weapon that "Black-ish" has deployed in many side-splitting workplace scenes." Deon also stars as "Det. Daniel "DJ" Tanner" on the TBS comedy Angie Tribeca, created by Steve and Nancy Carell. In addition to his three scripted shows, Deon hosts the BET game show Face Value, Executive Produced by Wanda Sykes. Deon will also appear in the Whitney Cummings directed film The Female Brian. He has been featured on several other comedy fan-favorite series including Benched (USA),The League (FX), and Wild N' Out with Nick Cannon (MTV), and he is a familiar face on the late-night and daytime circuits, with appearances on Conan (TBS), @midnight (Comedy Central), Last Call with Carson Daly (NBC), The Talk (CBS), and The Real (BET). Deon earned his first Writers Guild Award Nomination and his first Emmy Nomination for "Writing for A Variety, Music or Comedy Program" in 2010 as part of the writing staff on The Tonight Show with Conan O'Brien (NBC). He earned his second Emmy Nomination in 2011 for his work with the writers ofCONAN (TBS) and he wrote for Conan O'Brien when he hosted the 2013 White House Correspondents Dinner. Most recently, Deon received a 2017 NAACP Image Award Nomination for "Outstanding Supporting Actor in a Comedy Series" for his work on Black-ish and was featured as a presenter at the 2017 BET Awards.
In June 2016, Deon's first hour standup special Cole Blooded Seminar premiered on Comedy Central. His half hour special premiered on Netflix's The Standups on July 4th, 2017. On the big screen, Deon was seen in all three movies in the wildly popular Barbershop feature film franchise, and he is now appearing alongside Sofía Vergara, Alysia Reiner, and Chris D'Elia in the feature The Female Brain directed by Whitney Cummings.