Dee Lai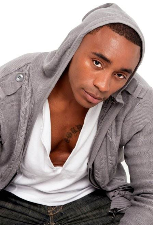 D'Lai has been referred to as one of the hottest new comedians to watch and is quickly becoming one of the nations most sought a er comics. He is best known as the Season 3 semi- finalist and Season 4 finalist of TV One's "Who's Got Jokes?"
Born and raised in Alexandria, LA, D'Lai's most recognized material is his "It's so easy!" lines and jokes about everything from current events to relatable life experiences. Each show engages members of his audience in comical banter. If provoked, he might even call his audience members on stage. After every show he expresses gratitude to his fans by personally thanking them, shaking hands, and taking photographs.
D'Lai regularly performs in comedy clubs across the country and is an ambassador for the United States government, performing at military bases all over the world. He is also a headlining performer at college universities across the country.
D'Lai is featured in Showtime Networks 98 minute comedy special/docu-film "Bill Bellamy's Ladies Night Out Comedy Tour" and is also touring nationwide on the increasingly popular Bill Bellamy's Ladies Night Out Tour.
Audience members never know what will happen at a D'Lai performance. He is an evolving comedian which is why no two shows are ever the same. He's always thinking of ways to connect with his audience to give them a performance that will always be remembered.