Chad Zumock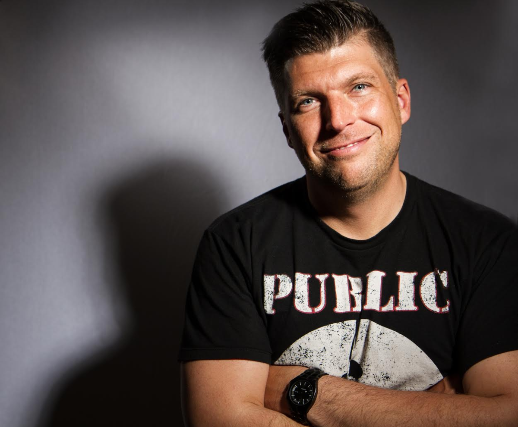 The self-proclaimed leader of the Sweater Vest Army burst onto the stand-up comedy scene in Los Angeles in the summer of 2004 and hasn't looked back. His famous trademark outerwear has gotten him national recognition, and even publicly acknowledged by former Ohio State head football coach and original Sweater Vest wearer Jim Tressel.
Chad Zumock is a proud 2.4 GPA General Studies graduate out of Kent State University, the same University that produced famous comedians such as Arsenio Hall, Steve Harvey, and Drew Carey. He captivates audiences with his high energy humor, brutal honesty about his life, and quick slacker wit. His likability is what connects him with all kinds of people and makes him a strong draw for all over the country, and also a strong social media presence.
His stand-up comedy has led him to appearances on Comedy Central, Spike TV, Showtime, E!, AXS TV, Gotham Comedy Live, HBO Lab, The Artie Lange Show, numerous low-budget commercials, and even a writing spot on the 2006 Comedy Central Roast of William Shatner. In 2015 he released his Top 20 iTunes ranked comedy album "Reckless Operation" which also can be heard on Sirius XM Raw Dog, Slacker, and Pandora Radio. Although Chad has accomplished a lot in stand-up comedy, he still doesn't not consider himself a comedian. He claims to be a basketball player that tells jokes. Chad is currently averaged six points a game in his Men's YMCA basketball league that plays on Monday nights.
For Cleveland and Northeast audiences Chad was an everyday voice on the legendary 100.7 WMMS for over three years, taking his drive-time talk radio slot to number one in several key demographics. He was also correspondent for Tailgate 19 CBS during the 2011 Cleveland Browns season and the host of the short lived "That's Cleveland" on Fox Sports. Chad was also honored by the NBA's Cleveland Cavaliers franchise in 2012 with "Sweater Vest Night," which was his biggest honor to date considering this was his favorite childhood sports team. This led to appearances on ESPN's Sportcenter and Fox Sports. In 2011, Zumock returned to his former Alma Mater and served as Grand Marshall for the Kent State Homecoming Parade after Drew Carey cancelled. This made him the very first seven-year General Studies major to ever hold this honor in Kent State's history.
Chad can sometimes be heard guest hosting the nationally syndicated legendary radio program, "The Bob & Tom Show" on radio station WFBQ our of Indianapolis, Indiana and regular guest on BENNINGTON on Raw Dog Comedy Hits 99
He hopes his stand-up comedy will one day lead him to his dream job of being in 'The Beastie Boys," replacing the late, great Adam "MCA" Yauch R.I.P.
Chad is also single and loves the 80's attack helicopter television show "Airwolf"
Events
Mic Drop! with Jay Larson, Ryan Sickler, Orny Adams, & more!
8:00 PM