7th Annual Summer Comedy Bash w/ Kabeezy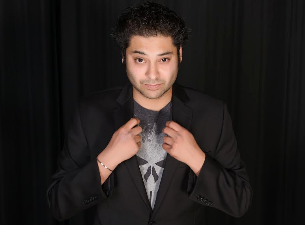 Join us for the 7th Annual San Jose Improv Summer Comedy Bash...Every Year we bring some of the Funniest and hottest Comedians in California for one big Comedy event that is not to be missed! The San Jose Summer Comedy Bash returns to the Improv with Bay Area favorite Kabir "Kabeezy" Singh headlining. One of the nation's fastest-rising comedy stars, Singh is a huge crowd-pleaser with an abundance of energy, an in-your-face attitude and clever material. He has won numerous comedy competitions, including the 2014 San Francisco International Comedy Competition, and has opened for top comedy stars like Russell Peters, Dave Chappelle, Dane Cook and more. Singh was featured o Season 3 of Comedy Central's Gabriel Iglesias' Stand-Up RevolutionHe's been called "The Next Big Indian Comedian" by India West, and has been called "One of the Must-See Stand-Up Comedians in the U.S." by TV Asia.
This show will also have very special Co Headliner in Saul Trujillo (Winner of the 2017 San Jose Improv Comedy Competition) , Saul is a childlike man who uses his comedic energy to light up a room. Whether it be good old self-deprecation or his view on the people closest to him, you will see in his act that there is nothing he is scared to talk about. Trujillo's act has been recognized by the Burbank Comedy Festival where he along with other talented comedians was awarded Best of the Fest in 2016. Recently, he placed 1st in the San Jose Improv Comedy Competition, beating out 80 tough competitors.
This yearly show has quickly become a staple in the Bay Area Comedy scene and has always delivered as being the hottest show of the Summer year in and year out. Do Not miss this amazing event and the oppurtunity to get a glimpse of tommarrows stars TODAY.
Featured Performers
Jeremy Curry ( Finalist in the 2017 San Jose Improv Comedy Competition and the 2017 Rooster T Feathers Bay Area Comedy Competition )
Sam Marcoux - Host of "Predictably Drunk" Podcast.
Paul Conyers
Hence Singleton
Jeanette Marin
Abel J
Hosted by Noah Gain ( Semi Finalist in the Rooster T Feathers Bay Area Comedy Competition 2017